Fleet services are critical for those companies managing five or more vehicles at any given time. Whether your vehicles see daily road time or are positioned on a lot for the majority of their days, they require the same level of care and maintenance as any other vehicle when it comes to preserving their function and longevity.
Kwik Kar – Mobil1 Lube Express is the leading provider of fleet services to companies throughout Hot Springs, AR, and we pride ourselves on accommodating any and all companies seeking to preserve the integrity of their fleets. Our current and past customer companies include:
Used car dealerships (cars)
HVAC companies (vans)
Municipal transportation (buses)
Local Utility Companies (trucks)
National Parks (terrain vehicles)
Full Oil Changes in Hot Springs, AR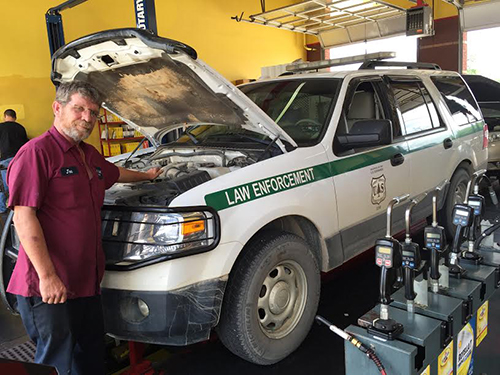 Great vehicle maintenance is about more than just fixing what's broken—it's about anticipating the life of each system and ensuring your critical components last as long as possible between scheduled services.
At Kwik Kar – Mobil1 Lube Express, we perform a thorough 16-point check on every vehicle we work on in Hot Springs, AR, which means getting a complete picture about the health and longevity of that vehicle. In this way, we're able to better serve our customers and their fleets by identifying potential issues and remedying them quickly. Simply put: our service technicians keep your vehicles on the road longer, with fewer issues in between service calls!
Why choose us for fleet maintenance?
It's easy to open the phone book and find an advertisement for car maintenance in Hot Springs, AR. What's not easy, however, is finding a shop you can partner with on a long-term, large-scale basis for exceptional service.
Kwik Kar – Mobil1 Lube Express is here to be your full and complete provider of auto services in Hot Springs, AR! We offer a number of benefits that make us a premier partner when it comes to handling your fleet's maintenance needs:
Drop in anytime for service as we have the ability to bill you later or for bulk vehicle services.
We provide a full and comprehensive range of maintenance services (see our services page) to keep your vehicles in top condition.
We also offer courtesy service to fleet customers for tire pressure adjustment, front vehicle vacuum and windshield cleaning.
Five or more vehicles get a 10% discount on all services!
Ready to give your fleet vehicles the critical services they need to keep running effectively? So are we. Get in touch with our talented technicians today if you're seeking fleet vehicle services in Hot Springs, AR.